HABITATION OF RÉZHEGY

The habitation has been created at the meeting point of a nature reserve forest, of the beautiful valley of Vál and Mária-valley. In direction of Etyek, there is a 200 years old plane (Platanus) row that borders the road, which goes to the Golf-Place in Mária-valley.
Alcsútdoboz is well known because of it's 40 ha arboretum, in which there is a row of botanic curiosity to find.
Here are the rests of the Habsburg palace, the classicistic lairage and domanial building.
Self-government's settling plan it's an interior area.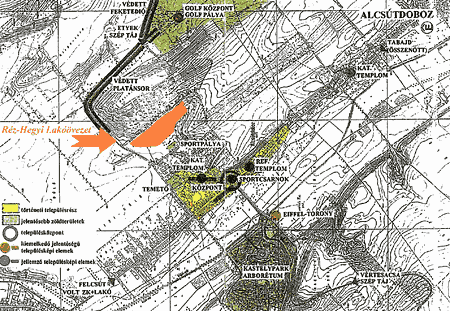 The layout of the grounds is shown on the following picture.
Areas marked with red are properties of our company. The floor plan shows our imaginations concerning how to build in the area.
On the 1 ha ground above the sport courts blockhouses are planed to be built, firstly with low floor-place, for the home demands.
Usage of the rest of the area would be realised concerning golf for the Hungrian and international demands.