SPORT POSSIBILITIES IN THE ENVIROMENT

Sport court


8087 Alcsútdoboz, József Attila str. 3.
Telephone: 0036/22/594-333
Telefax: 0036/22/252-400
E-mail: alcsopor@axelero.hu


Frequent programs:
Monday 16-18 h after-growth football
18-19 h female gymnastic
Tuesday 15-16 h karate training
16-17,30 h basketball
Wednesday 16-18 h after-growth fottball
19-20 h old boy's football
Thursday 15-16 h karate training
16-17,30 h basketball
Friday 15,30-16,30 h acrobatic rock and roll
17-18 h female gymnastic
18-19 h handball


Gymnastic room: open every day meanwhile the other programs.
Prices:
10 or less than 10 person: 2.500.- HUF / óra
more than 10 person:  300.- HUF / hour / person

Riding




Hunting

Alcsútdoboz-Felcsút Földtulajdonosi Közösség Vadászati Jogközösség (Hunting Law company of Alcsútdoboz-Felcsút's Domain owner Company)
Vadex tariff fair hunting
(agreement)
roebuck (antler 55 - 250 g): 1 st of Mai - 31 st of Mai, 1 st of August - 31 st of August
Hart (antler 4,5 - 10 kg): 1 st of September - 30 th of September
Viczai Ferenc 0036/209/568-757
Mészáros Lőrinc 0036/209/731-819



Velence-lake and it's surrounding

The lake of Velence and its coast is the most valuable part of the Velence-countryside. The Velence-mountain contacts Velence-country side in the north, and the fruitful flatland of Mezőföld in the south. The countryside integrates in itself the three most important elements of countryside: big surfaced water, mountain and flatland, so despite it's small, it's various.

On cultural and traffic side here belongs Martonvásár, Tác, Vál. Majk and Várgesztes are easily reachable from the north. They have historical monuments. 10 km far from the lake is the oldest Hungarian city, Székesfehérvár, the capital of comitat Fejér.

Thermal and medical bath

Even more and more people are looking for the thermal bath of Agárd, which stands before development from a meaningful state and local government support. The 55 C water is coming up from 1000m depth, and has alkali-hydrocarbonate, chloride, sulphate, calcium and fluorine, which are perfectly able to heal movement-organs, gynaecological illnesses, and to handle situations after accident and akinesia. In the bath there is possibility for Balneotherapie, weight-bath, mudpack, Tangeton and physiotherapy, rheumatological exams, medical heal-massage, group and individual heal-gymnastic.

Wine-tasting

10 km from Alcsútdoboz is the Etyek-Buda Wine-land's denominator township. Due to the hundred years old wine-culture, this countryside is part of Hungary's historical wine-lands.

The grape is produced on more than 800 ha, and serves as the base element on one hand of the sparkling-champagne of Törley from Budafok, on the other hand of the even more popular wines of Etyek, like: Chardonnay, Sauvignon blanc, szürkebarát, Princess, Rheinish Risling.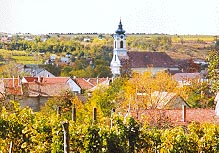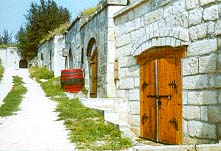 For the interested we can offer the following possibilities for an exciting wine-tour:
| | | |
| --- | --- | --- |
| Alexandra Kispincészet | Vizi Károly | 0036-20/331-6050 |
| Átrium Borház és Panzió | Szakál Pál | 0036-22/353-660 |
| Bormester Pincészet | Gyurkócza Bendegúz | 0036-22/353-613 |
| Etyeki Borudvar Kft. | Hornyák László | 0036-22/708-008 |
| Etyeki Kuria | | 0036-22/223-930 |
| | Gombai Nagy Tibor | 0036-22/353-612 |
| | Juhász László | 0036-30/472-4528 |
| JuliusVin Bt. | Orosz Gyula | 0036-60/390-787 |
| Kattra Pincészet | Kattra Imre | 0036-30/973-4128 |
| Sánci Borház | Tátrai Tamás | 0036-22/223-703 |
| Wini City Kft. | Szabó György | 0036-30/326-2072 |